VOTED THE BEST ROMANTIC GETAWAY IN THE UNITED STATES BY THE INTERNATIONAL HOSPITALITY RATING BUREAU
This unique Whirlpool Suite is country inspired with its Ben Franklin fireplace, country style furniture and a patio with adjacent courtyard. Slip into something comfortable, like your own in-room whirlpool tub and snuggle beside the old fashion fireplace.
A relaxing massage chair enhances your relaxation prior to slipping lovingly into your queen size bed with its hardwood headboard and footboard. This tastefully simple suite is a little bit country, but it's also a little bit…well, that's up to you!
Choose the location that you would like to see.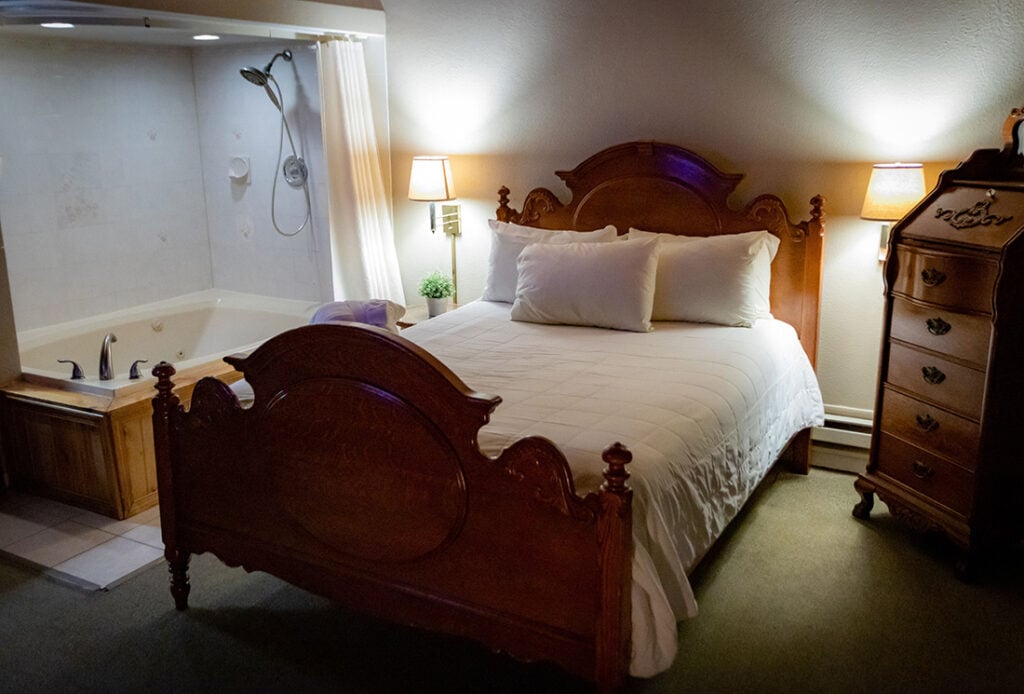 Country charm sure to please!
4'x 6′ Soothing Whirlpool Tub
Relaxing Massage Chair
Ben Franklin Fireplace
Country Style Furniture with a Queen Size Bed
Patio with Adjacent Courtyard
Exclusively Available at Mequon, WI
Scroll right-to-left to view entire chart
| Suite Style | Whirlpool Hot Tub | Swimming Pool | Waterfall | Steamroom | Fireplace | Massage Chair | Slide |
| --- | --- | --- | --- | --- | --- | --- | --- |
| Country Whirlpool | 4' x 6' | - | - | - | Yes | 1 | - |
| Classic Whirlpool | 4' x 6' | - | - | - | Yes | - | - |
| Deluxe Whirlpool | 5' x 7' | - | - | Yes | Yes | 1 | - |
| Swim Spa Suite | Swim Jet | 13 ft. | - | Yes | Yes | 1 | - |
| Paradise Swimming Pool | *See below | 15 ft. | Yes | Yes | Yes | 1 | - |
| Majestic Swimming Pool | 5 x 7' | 22 ft. | Yes | Yes | Yes | 1 | - |
| Chalet Swimming Pool | 5' x 7' | 22 ft. | Yes | Yes | Yes | 2 | Yes |
* Paradise Swimming Pools at the Northbrook & Frankfort locations feature a hot tub attached to the pool. Downers Grove, Mequon, & Indianapolis locations feature a separate whirlpool tub. Suite decor and pool sizes will vary by location.
Please visit these fine restaurants before or after your Romantic Getaway at Sybaris or call for delivery!
Planning a romantic getaway in one of our luxurious suites here in Mequon and curious whether there are any interesting things to do in the area? Let us tell you of some of the many wonderful attractions to take advantage of that are guaranteed to make your visit a memorable one.
If you're looking to stay in the local area, feel free to take advantage of our enchanting walking trail along the Milwaukee River located on-site. Branching out, you will want to visit the Cedarburg Chamber of Commerce website (www.cedarburg.org/) featuring numerous events taking place in the area such as winery tours and community festivals. Plan to take a bike ride through the countryside? Then head over to the interurban bike trail (www.interurbantrail.us/) and cruise as far as you can go. Looking to visit the countryside and one of the oldest buildings in Wisconsin? Then a trip to Holy Hill Basilica (www.holyhill.com/) and its breathtaking view is what you are looking for.
Is the city more your style? Milwaukee is only fifteen minutes away and taking Highway 43 will get you there in no time. If you're looking to tour the city in style then you will want to book a romantic horse-drawn carriage ride here (http://www.milwaukeecarriage.com/). While in Milwaukee you will want to make sure you take advantage of the seasonal festivals held around the lakefront (www.visitmilwaukee.org/events/). Milwaukee is also host to a fantastic public museum (www.mpm.edu) and while there be sure to catch the latest IMAX movie and visit the beautiful butterfly exhibit. You can also take a tour of the world-famous Miller brewery (http://www.millercoors.com/milwaukee-brewery-tour.aspx) and don't forget to catch an unforgettable Brewers game at the stadium located just twenty minutes away from your suite, get your tickets here (www.brewers.com).
Wherever you decide to go, make the visit one you will never forget, and after a full day of adventuring you will look forward to taking a dip in your own private swimming pool followed by a toast to your love for one another soaking in your personal hot tub. For further ideas or for any questions you may have, please, give us a call at 262-242-8000.
General Mitchell International Airport – 5300 S. Howell Ave., Milwaukee, WI – 20.3 miles
Milwaukee Zoo – 10001 W Bluemound Rd., Milwaukee, WI – 16.8 miles
Milwaukee Public Museum – 800 W. Wells St., Milwaukee, WI – 12.4 miles
Potawatomi Bingo and Casino – 1721 W. Canal St., Milwaukee, WI – 15.6 miles
If you are interested in being listed on this page, please call the Sybaris Corporate office at (847) 637-3000
For rates on multiple night getaways please call. Prices are subject to change during peak holiday periods.
What Our Guests are Saying
our commitment to the excellence and quality of our guests' experiences is second to none
"It was so relaxing and awesome love it A+++++++"
-the Woosleys
"We love Sybaris! It's so great to get away from the world for a night. The suite is always clean and the chocolate covered strawberries are to die for!"
-Mr. Polomski
"Our stay was amazing!! I walked into the room and on the bed there were rose petals spelled out saying "will you marry me"... best night of my life!! I will never forget that night!! Thanks for making it beautiful."
-Ms. Sellers
"Great Experience. We were going to Champagne Lodge in the past for our getaways. But once we found Sybaris and had a wonderful experience, it is now our go to spot."
-Mr. Rodriguez
"My wife and I had an amazing time. It's definitely the perfect place for a quick getaway and well needed recharge."
-Mr. Fadeyeva
"I loved my stay. My husband surprised me with this little getaway and it was exactly what we needed. We've never felt so comfortable and relaxed in a long, long time and Sybaris did the perfect job of making that happen."
-Mrs. Alkalidy
"My husband and I were pleasantly surprised at how nice the suite was. I was worried that it wasn't going to live up to 'the hype' but it definitely did! We will be returning, no doubt about that!"
-Mrs. Morris
"My wife and I were extremely impressed with the quality and the cleanliness of the suite. All of the features of the room made for an exciting, relaxing evening that was much needed."
-Mr. Illes
OMG!!! Beyond fantastic!!!
-Ms. Holland
"This was the perfect place to celebrate my one year wedding anniversary. Next time I will have to book two nights instead of one. My husband and I didn't want to leave. We will definitely be back."
-Mrs. Leasure
"Sybaris is the perfect place to spend one-on-one time with your spouse. It provides an intimate, uninterrupted venue to getaway from the hustle and bustle and simply enjoy one another."
-Mr. & Mrs. Holmes
"The time we spent together at the Sybaris was priceless. Definitely worth every penny. With all of the luxurious amenities at our disposal we felt like a King and Queen for a night."
-Mr. & Mrs. Maney
"We gave a Sybaris Gift Certificate to a friend for his 30th birthday. It was the hit of the party. And after their getaway they called us to rave about how much they enjoyed the gift."
-Mr. & Mrs. Leon
"Our suite was impeccable. The cleanliness is like no other. Better than any 5-star Resort."
-Mr. & Mrs. Brooks
"Whenever we have a chance to getaway, Sybaris is the only choice for us. You can tell they go to great lengths to provide the ultimate romantic atmosphere. No other hotel offers your very own private swimming pool in your suite."
-Mr. & Mrs. Kimmel